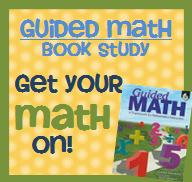 Chapter 4 is being hosted by
Sweet Seconds
and
Once Upon A Teaching Blog
.
Chapter 4 is about using Guided Math with the Whole Class. The author begins by listing advantage of whole-class instruction on page 106, followed by the challenges of whole group instruction. Whole group instruction not only allows you to present information to all students, it continues to build a classroom community.
Then Laney Sammons does a wonderful job talking about Mini Lessons giving us the framework for planning these lessons. She also give use examples of activating strategies. Anticipation guides and word splashes were something new for me. I am excited about possibly using these strategies in the fall.
Math-Related Children's Literature (pg. 122-125) is something I need to do more of in the classroom.
Setting the Stage for Math Workshop (pg 125-130) just wets our appetite for the upcoming chapters. The author discusses math huddle, practice and review sessions using papencil and paper tasks, games and music, technology and assessment.
In my classroom I usually begin a whole group lessons followed by math workshop it time allows. Mini Lessons was not used as much as I would have liked. However, we used math workshop to practice these skills that were being taught.