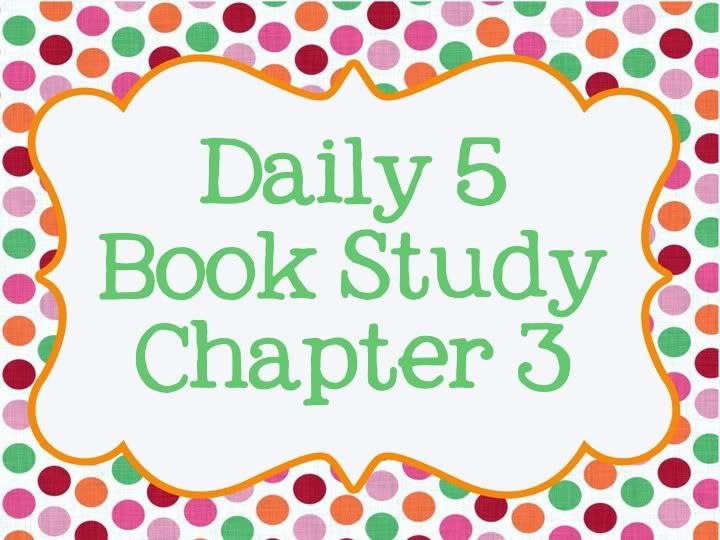 Chapter 3 focus on the routines for launching The Daily 5.
It all starts at "The Gathering Place".
The sisters write on page 28 "During the Daily Five we bring the whole class together at the gathering place after each work sesion. As children join us in the gathering place on the floor, it signals a shirt in activity and thinking." This was may gathering place two years ago. It was the only picture I could find.
Good Fit Books
On page 29 the sisters write "...the real challenge lies with our teaching children so they are empowered to choose good-git books for themselves each time they go to the library, bookstore or classroom book area."
Model, Model, Model and Model again!
I like to use the model the sisters created from the book. I complete the I-Pick chart with the students.
Setting Up Book Boxes
Would you believe I just use zip lock bags? In my room students choose anywhere from 5 to 8 books and keep them in a zip lock bag inside their desk or chair pocket. I replace the bags when needed.
Anchor Charts
Create these with your students. Just look on pinterest on google and you will find tons of examples of charts.
Short Intervals of Repeated Practice
See page 37 --Figure 3-8 Ten Steps to Improve Muscle Memory. I think this also goes back to modeling. The more students model and practice the better they will get in their routines.
Signals and Check-In
This is going to me new for me this year. I will need to find a sound that will be unique to this part of our day. Transition time is always were my behavior problems come from. This is something that I am going to work on, hopefully practicing these transitions in short intervals will work with my students.
Correct Model/ Incorrect Model
During the beginning of the year, my reading coach comes in and we model this for the students. We then have the students model the behaviors. This has worked great with us in the past. This gives students a great visual to understand what is expected of them.
Final Thoughts
In my opinion the best paragraph in this chapter is found on page 42 "The beginning of the year is all about establishing routines, defining expectations, practicing behaviors, and building stamina with children withing the Daily Five framework, and it takes lots of discipline on the children's part as well as the teacher's. We move slowly to eventually move fast. The payoff is enormous."