I'm It!
I am sure you all have seen the Tag! Your It! Posts going around in blogland and I get to play too! Yea! I have been tagged by two fabulous bloggers!
Here are the rules
*You must post the rules.
*Post 12 fun facts about yourself on the blog post.
*Answer the questions the taggers set for you in their post and then create twelve new questions for the people you tagged.
*Tag 12 people and link them in your post.
*Let them know you tagged them.
12 Fun Facts About Mechele 1
. I love to send cards to people. I send Birthday, Get Well, Thinking of You and Congratulations Cards. I mail all my cards on Tuesday of each week.
2
. Myself and a couple of coworkers take on mini photo challenges on the weekend and we share our photos with each other after school. It is a way for us to learn how to better use our camera and have fun doing it.

3.
I cook all the time. (not by choice) We live in a rural area so going out is not an option. The only thing close by is a Burger and Pizza Joint. We have to drive 40 minutes to the nearest sit-down restaurant.

4
. I live across the road from an old one room school house that is still standing. My Daddy went to school there. The schoolhouse is in fair condition and is on private property.

5
. I love sitting on my front porch! For Christmas I asked for and received two ceiling fans to go on the front porch. Now I must get them installed.

6
. I am a huge Country Music fan. My husband and children--not so much. This is why they listen to/play on their IPod if they are not driving.

7.
For family trips we like to get in the car and drive to see where we end up. We leave the house with only a general direction. These are some of our best memories.

8
. I eat fresh eggs. We have our own chickens and we gather about a dozen eggs a day. We give many away to neighbors. Who can eat 12 eggs a day?

9.
I like to play Just Dance with my kids on the Wii.

10.
I get wild ideas --like starting a new blog when I barely have time to work on this one.
11
. I am trying to talk my husband into getting bee hives so we can make our own honey. (I'll let you know how that goes)
12
. I meet my husband 21 years ago at a fast food restaurant. I married him 54 weeks later. We have been married for 20 years.
How many grades have you taught? 5--K,1,2,3,4
How many years have you taught? 19
What is your favorite hobby?Reading
What is your favorite restaurant? I don't really have a favorite, we usually eat at Cracker Barrell
What is your favorite television show? Amazing Race
What is your favorite movie? A Good Western
What is your favorite app? Google Reader--Someone needs to clue me in on some good apps
What is your favorite subject to teach? Math
Do you like roller coasters? Yes
Do you have any tattoos or piercings? No
What is your favorite season? Spring
How many siblings do you have? 1 sister

12 Questions from
What's the hardest thing about teaching this year?
Having a diverse classroom with no aide. I have 24 students that range from ELL, autistic, selective mutism, dwarfism, and throw in a couple of ADHD children for good measure
What is a professional book you recommend to everyone you work with?
The Daily 5
What is a new idea you have tried this year that has really worked?
We have started a management response for one of the autistic children in my classroom. He has responded very well with this. It came about because it helps him stay focused in an inclusive classroom.
What book character do you most want to be like?

Any that have a happy ending and everything is right in the world
What is your favorite book or author to read aloud to your class?
Kevin Henkes
What treat or pick me up do you keep hidden in your desk at school?
Currently is is Nilla Wafer
What one new thing to you want to try new on your blog?
Linky Parties
What do you do on snow days?
Nothing--It rarely snows in Alabama. When it does snow everything shuts down. We may have a snow day every couple of years. They are few and far between. We use more days for severe weather (tornadoes, flooded roads, etc...)
What time do you get up on school days?
6:00 am
What is your favorite thing to pin?
Recipes
What is the last movie you saw?
Beauty and The Beast in 3D
Here are my 12 questions for the 12 people I am tagging:
What is your go to recipe when you have a long day at work?
If you weren't a teacher what profession would you like to have?
What are some of your favorite graphics you use when creating your units?
What is your favorite city in the United States that you have visited?
What is your favorite song?
Do you play an instrument?
What is your favorite flavor of ice cream?
What is your favorite spring activity? Either at home or school
Would you rather have a new handbag or a new pair of shoes?
What is your favorite fruit?
What is your favorite science/social studies unit to teach?
What is something you use in your classroom on a daily basis?
I Tag...
Farmtastic Fun In Second Grade

Faithful In First

A First Grade Fairy Tale

First Grade O.W.L.S.

Second Grade Shenanigans

12 Questions from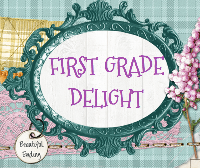 1. Do you have to sign in and out when you arrive and leave school? (including if you leave for lunch?) I have to sign in and out when I arrive and leave. I do not get to leave for lunch. I am required to eat lunch with my children.

2. What is your favorite snack? BBQ potato chips

3. What time do you usually get to work? 7:20 am. This is the latest we can arrive. I must be signed in by that time or I am considered late.

4. What is your dream vacation? A week on a tropical island with no phone or internet

5. Who is your favorite actor/actress? John Travolta

6. Have you ever had a bad habit that you have now overcome? No, I don't drink or smoke however, I have a horrible temper and I have not overcome it yet. I work on it daily.

7. Is there a smell that you can't tolerate? Body Odor

8. Do you have a favorite sports team? The Alabama Crimson Tide Football Team

9. What's your favorite type of music? Country

10.What annoys you more than anything? People who want a free ride, they want everything given to them without working for it.

11. What is your favorite children's book? There are so many it is hard to choose just one, I will go with Lily's Purple Plastic Purse by Kevin Henkes

12. How long have you been teaching? 19 years