Two different blogs are having giveaways this week. Both are offering products any teacher would love to get!
A Teacher's Plan is giving away one premade lesson plan template in
honor of reaching 101 followers!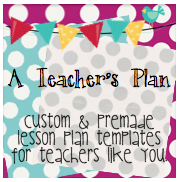 KindergartenWorks has a huge giveaway, a calendar pack of everything you will need for all year.
Just click on the "Ticket" for your chance to win.