Tara at 4th Grade Frolics is having a fabulous lunch box linky party.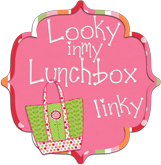 I take my lunch most days. I use a lunchbox from Thirty One.
I take a can of soup almost everyday. I just warm it up in the microwave. Today I also had some leftover rice to add to my soup.
I also carry crackers. This is for myself and my girls as an after school snack.
I eat lunch every day at 11:45. We have a 25 minute lunch. I am required to eat lunch with my children. Here are a few pictures of my class at lunch.
We have five tables in our lunchroom. Our lunch times are 5 minutes apart. We only have 13 homerooms in my school. We are very limited on our staff.